Auction Schedules for our Bidder's.

© 2019

J Michael's Auction Inc. All Rights Reserved.
We conduct several hundred auctions throughout Southern California every month.  Our professional auctioneers are selling units at several storage facilities in different cities every day.

To find out where we are today, tomorrow or next month, click on the month below and find the date that you are interested in attending. Call our recorded update line for daily updates and cancellations.  We make it easy.

Print a blank "Resale Certificate".

A resale certificate is required to be kept on file with JMA, Inc. if you are doing business in the State of California.

Fill the form out completely and legibly and give it to the auctioneer.

Southern California

Auction Schedules

Choose and click on the month you want to attend. 

The schedule will open and you can scroll to the day you are interested in.

Content may not be completed for all months.

What you should also know!

All auctions are cash, cash only.  You
cannot leave
to go to a bank or ATM after the auction to get money. You must have the cash on you at the time of your purchase. DO NOT OVERBID YOUR MONEY.  There is a minimum of a $100.00 refundable deposit per unit purchased, added to your purchase, unless you are a "buyer in good standing".  If you do not have a
resale certificate
on file with  J. Michael's Auction, Inc. we charge you sales tax for the county in which you bought the unit.  Everything in the unit is unconditionally and legally transferred to your personal ownership through
California State Lien Laws
. You are now the
legal and lawful owner
of everything in the unit and you must remove all of YOUR newly acquired merchandise by close of business the next day, unless other arrangements are made with the facility manager.
The facility has the option to bring suit against you, in small claims court, for recovery of any costs associated with removing anything abandoned in the unit by you
.   Please return all personal papers, photographs, documents, files and other personal items to the manager.  Do not enter or reach into any unit.  You cannot use the facility's dumpster. Please read the
terms and condition
s of the auction prior to attending.
The recorded update line gives you daily updates of that day's auctions.  It tells you which auctions, we are aware of, that  are cancelled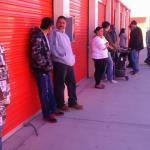 Storage Auction Experts'

Update Phone Line -  209-667-5797

Auctions are re-opening May 14th