Auction Schedules for our Bidder's.

© 2020

J Michael's Auction Inc. All Rights Reserved.
Print a blank "Resale Certificate".

A resale certificate is required to be kept on file with JMA, Inc. if you are doing business in the State of California.

Fill the form out completely and legibly and give it to the auctioneer.

Southern California

Auction Schedules

The recorded update line gives you daily updates of that day's auctions.  It tells you which auctions, we are aware of, and  those that  are cancelled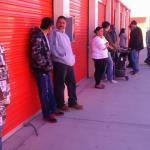 Storage Auction Experts'

Update Phone Line -  209-667-5797